Anderson & Roe
Piano duo
Sunday, March 2, 2014, 3

PM


At the Moss Arts Center, 190 Alumni Mall, Blacksburg, VA 24061
In the

Street and Davis Performance Hall's

Anne and Ellen Fife Theatre
$20-$30 general admission, $10 students with ID and children 18 and under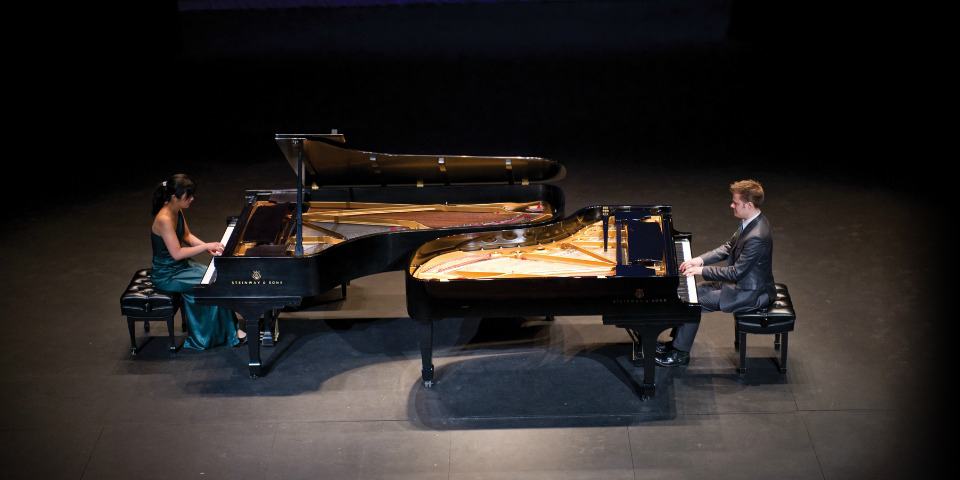 Known for their adrenalized performances, original compositions, and notorious music videos, Greg Anderson and Elizabeth Joy Roe are revolutionizing the piano duo experience for the 21st century. Described as "the most dynamic duo of this generation" by San Francisco Classical Voice, the Anderson & Roe Piano Duo aims to make classical music a relevant and powerful force around the world. Their recent album, When Words Fade (Steinway Label), was released to critical acclaim in 2012 and spent over a dozen weeks at the top of the Billboard Classical Charts, while their Emmy-nominated and self-produced music videos have been viewed by millions on YouTube. The Anderson & Roe Piano Duo has appeared on NPR and MTV, toured extensively around the world, and presented at numerous international leader symposiums. Highlights of the 2013-14 season include tours throughout North America, Asia, and South Africa; an appearance at the Gilmore International Keyboard Festival; a new, all-Mozart album on the Steinway Label; and the release of their ambitious—and literally explosive—music film, The Rite of Spring.

 
BEFORE THE PERFORMANCE
 
Gibby Waitzkin and Sam Cook will lead My Take Talks about exhibitions by Jacco Olivier and Joni Pienkowski, respectively, in the galleries prior to the performance. Waitzkin's My Take Talk will take place in the Sherwood Payne Quillen '71 Reception Gallery at 2 p.m., while Cook's My Take Talk will take place in the Ruth C. Horton Gallery at 2:20 p.m.

AFTER THE PERFORMANCE

Anderson & Roe will give a brown bag talk on the "future of classical music" with Department of Music students, "Music Today" Honors colloquium, and music faculty on Monday, March 3, from 12:30-2:30 p.m. in Henderson Hall, room 204/205. The event is free and open to the public.
Related Videos
Become a season subscriber to receive a discount on our regular ticket prices.
Inspiration
Anderson & Roe, piano duo

Something Fresh
When you're in the mood for a bit of adventure, and want to try something completely new and different. Other FRESH performances:
All performances take place in the Anne and Ellen Fife Theatre, in the Street and Davis Performance Hall, unless otherwise noted.
 
Share