Sunday, November 3, 2013, 12 PM
Community Open House
Free, throughout the center
The Open House will feature a variety of local singers, dancers, instrumentalists, and spoken word artists; a cappella ensembles; and a community chorus led by Elise Witt. Witt and her Impromptu Glorious Chorus will provide a thrilling musical ride at the culmination of the open house. Join in as many small ensembles of performers will appear in spaces around the Moss Arts Center.
Center for the Arts Executive Director Ruth Waalkes conceived this idea for a community event led and curated by visiting artist Elise Witt and Ann Kilkelly (Virginia Tech School of Performing Arts) with a team from the center, the academic departments, and the larger community. Please add your voice to the closing chorus as we gather our communities and open the new space to all.
The Institute for Creativity, Arts, and Technology will also host hands-on arts and technology activities
 including visual art exhibition 
This edge I have to jump
 by visiting artist Joan Grossman, an improvisational jazz group and The Orb of Awesomeness in the Sandbox, and much more.
Sara Bailey  Program Manager, Center for the Arts
Jon Catherwood-Ginn  Partnerships & Engagement Manager, Center for the Arts
Community Engagement Team
Elise Witt
 guest artist
Ann Kilkelly  curator/director
Vince DeGeorge  artistic consultant
Jackie Pontious  graduate assistant to the Institute for Creativity, Arts, & Technology's "Interact" Studio 
Amy Luce DeGeorge  production consultant
Special thanks to Shawn Brenneman, Nicole Drake, Mary Harder, Franklin Harrison, Janice McBee, Mary Lou Moore, Victoria Taylor, Lee Heuerman, and Amado Ohland.
A little more information about our performing artists for the Community Open House:
Elise Witt
Elise was born in Switzerland, raised in North Carolina, and since 1977 has made her home in Atlanta. She speaks fluent Italian, French, German, Spanish, and English and sings in over a dozen languages. Her passion for music and languages has led her to take her Global, Local & Homemade Songs™ across the United States and around the globe. Elise has served as a cultural ambassador to South Africa, Nicaragua, China, Italy, and Yugoslavia. Brought up as the daughter of survivors of Nazi Germany, Elise uses her music to promote causes of peace, justice, and human dignity in her community of Atlanta, and around the globe. 
No Strings Attached
An award-winning quartet based in Roanoke/Blacksburg, Virginia, No Strings Attached actually features hundreds of strings playing music described as "eclectic, jazz on acoustic instruments and world beat." No Strings is superficially a traditional string band focusing on instrumental arrangements, but they consistently stretch the boundaries of string music beyond traditional concepts. The Washington Post accurately described them as "one of the more adventurous string ensembles today." While their recordings feature traditional acoustic music, they also incorporate material by Dave Brubeck, Thelonious Monk, Sonny Rollins, the Chieftains, and Bill Spence, as well as their own originals. 
Juxtaposition
Established in 199, Juxtaposition hasproduced eight albums, including their most recent, Young at Eight, and received  numerous awards and honors. Traveling to colleges all along the east coast, Juxtaposition enjoy performing their wide repertoire of 70's, 80's, 90's and current hits. However, their favorite gigs are those that occur on campus for their fellow Hokies. They perform to sold-out crowds twice a year in The Lyric Theater in downtown Blacksburg.
Annie Stevens
As an active soloist and chamber musician throughout the U.S. and internationally, Annie has been featured in recent performances at the Percussive Arts Society International Convention, the International Trumpet Guild, the International Computer Music Conference, and Eastman's China Connection Ensemble. She has performed with the festival orchestras of the Music Academy of the West in Santa Barbara, the National Orchestral Institute in College Park, Maryland, and the Aspen Music Festival. As an advocate for new music and percussion repertoire, she participates with many chamber groups engaged in commissioning new works such as New York's Signal ensemble and the Grammy nominated Metropolis Ensemble.
Sensations
Sensations is an all female a cappella group founded at Virginia Tech during the fall semester of 2003. The group performs winter and spring concerts and various other performances.
Vocal Circle Jam NRV
Vocal Circle Jam NRV invites singers of all skill levels to participate in a "singing circle" (which is something a little bit like a "drum circle" for singers). Skilled leaders guide participants in songs, rounds, or improvisational circlesongs. Together we create beautiful harmonies, with or without sheet music—usually without. Come sing with us! To join, visit 
Vocal Jam Circle, greater NRV area
.
VT Expressions
A social organization dedicated to free expression in art, music, poetry, dance, etc. and more. Expressions serves to promote and balance intellectual and creative development alongside achievement in academics, as well as provide healthy alternative social outlets for creative individuals in the Virginia Tech community. We focus on EDUtaining: Educationally Entertaining. Ultimately, Expressions aims to build a network of artists (visual, writers, musicians, dancers, and more) who can come together to exchange ideas, support other progressive programs, and represent the images, voices, sounds, movement, and thoughts of the student body.
Window Ensemble
This two part dance features work by choreographers Danah Bella, Rachel Grant, Ann Kilkelly, Virginia Tech School of the Performing Arts students, and bassist Patrick Turner. Dancers created gesture-based movement based on the idea of "opening." 
Soulstice
Soulstice is Virginia Tech's premiere all-female a cappella group. Established in 1998, they are currently celebrating 15 years! Soulstice performs in campus or community events at least once a week. Performances include Relay for Life, spirit rallies, fundraisers, fraternity events, weddings, and many more. Soulstice is very excited about releasing their 15th anniversary CD at their fall concert on November 15, 2013, at 7:30PM in the Lyric Theatre in Blacksburg.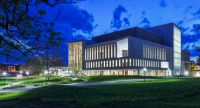 BECOME A DONOR!
Join with Patrons and Friends in supporting the center. Choose your level of giving, each with its own benefits.
Click here for more information.