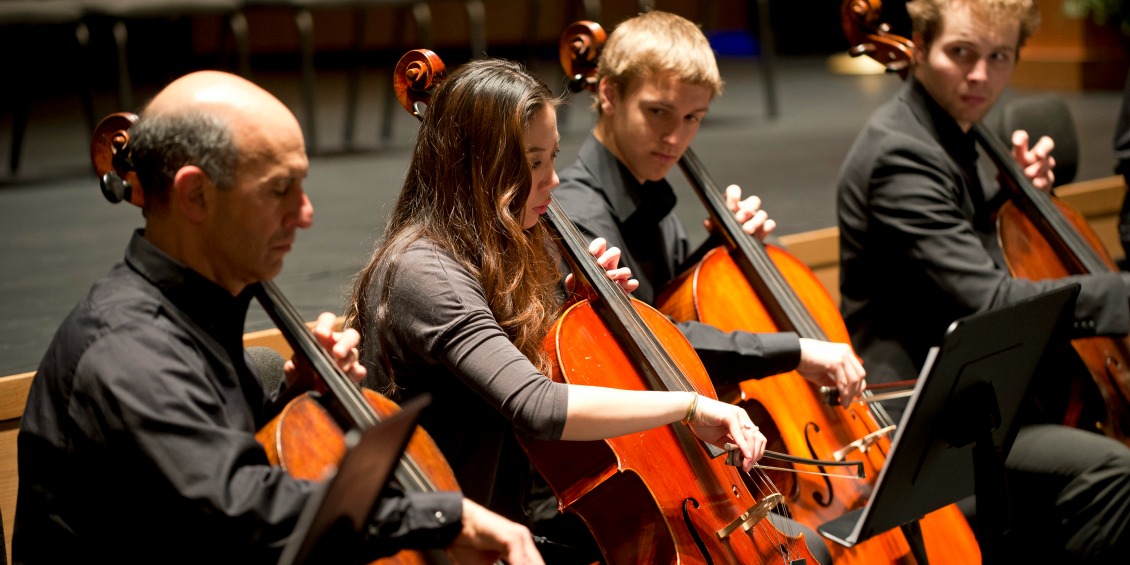 At the Moss Arts Center, artists don't show up, perform, and leave.
"We're a place where artists come to connect with people, share their experiences and insight, and learn more about our community," said Ruth Waalkes, associate provost for the arts and executive director of the Moss Arts Center.

Programs hosted by the Moss Arts Center and the Institute for Creativity, Arts, and Technology bring new ways for everyone to engage with the arts and the creative process.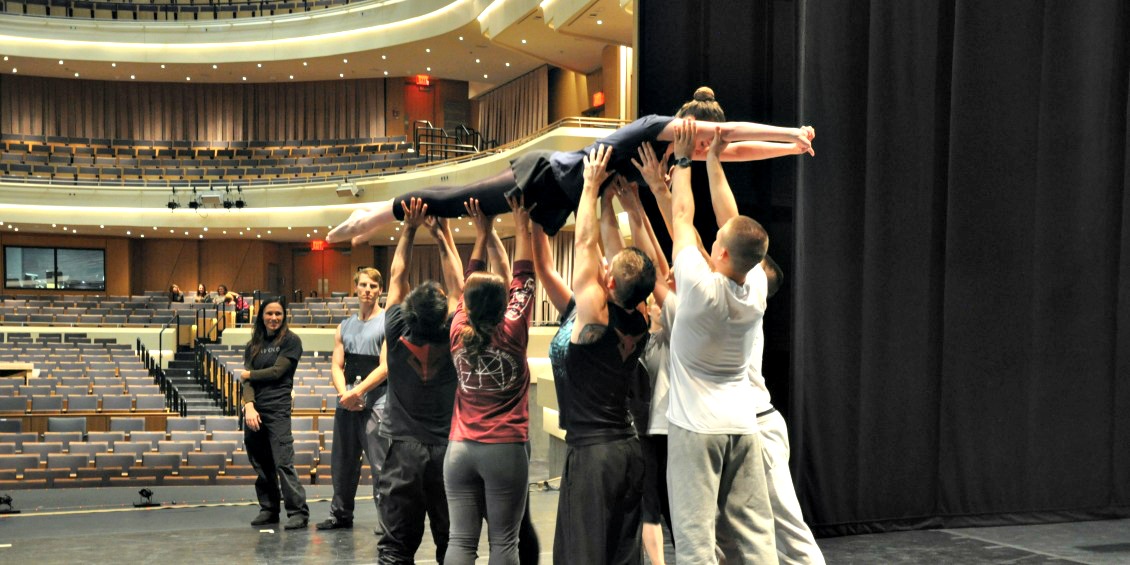 Modern acrobatic dance company Diavolo Dance Theatre works with students from the Corps of Cadets, the Ballet Project at Virginia Tech, and the university's Fusion Dance Team for
Soar: Take Offs & Landings.
Students were taught the fundamentals of flight, spotting, catching, and how to maintain focus and body shape as they practiced their techniques on Diavolo's sets.
In simpler terms, the Moss Arts Center is more than just a building and we are about more than just selling tickets. 
"Central to our work is the idea of community engagement," Waalkes said. "We work purposefully at the Moss Arts Center to bring artists of regional, national, and international prominence who share our passion for learning, discovery, and engagement and embrace the many traditions, cultures, and ideas that reflect the diversity of our world. This exploration and collaboration creates a two-way process where community members can learn from artists and vice versa."
In particular, the center contributes to Virginia Tech students' education and provides ways for them to participate in the creative process. This includes everything from special collaborative experiences with visiting artists to student-led programming.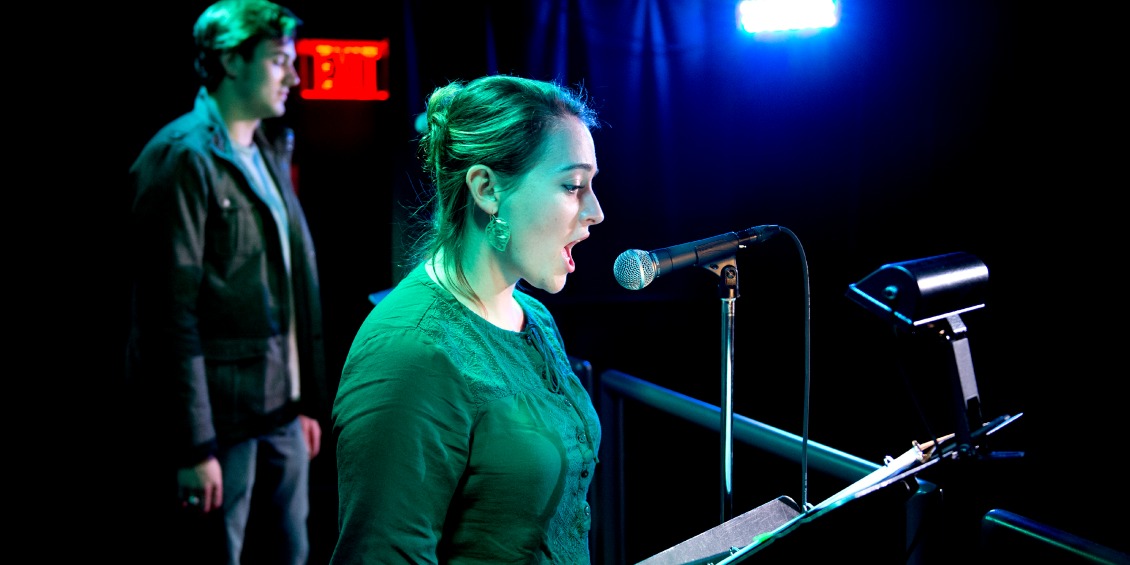 Student singers join high school students to present OPERAcraft in the Cube. The virtual opera was created in the video game Minecraft. The students controlled character avatars as they lip-synced with singers with the production.

"Attending the Moss Arts Cener's performances has helped me to personally get in touch with both the Virginia Tech and Blacksburg communities and to learn more about American culture and traditions," said Mohammed Seyam, of Egypt, a doctoral student in computer science. "I've seen performances from different places across the world and from different places in the U.S., each with different musical and visual flavors. I appreciate the high-quality and diverse performances that cover a wide area of the international art landscape."
The center frequently invites student performers and artists to share their talents in conjunction with visiting artists' activities and to fill the center's Grand Lobby and other public spaces during events. For example, SalsaTech showed patrons the finer points of salsa dancing, and the Dhamaal Dance Team performed the Garba, a form of folk dance from Guajarat, India. Student musicians from the School of Performing Arts and student-led ensembles such as Juxtaposition, Sensations, Expressions, and Soulstice, performed before center events.

The center's art galleries showcase work from undergraduate and graduate students from the College of Architecture and Urban Studies and other colleges across campus affiliated with the Institute for Creativity, Arts, and Technology. Exhibitions have included traditional and trans-media work, such as kinetic sculptures and computer-generated, projected imagery.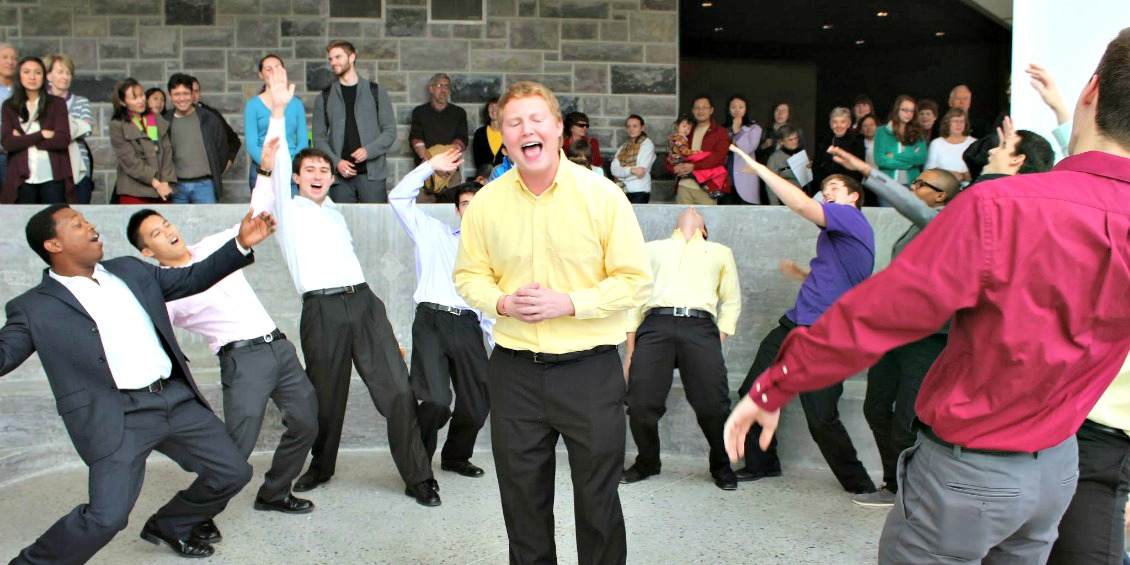 The Community Open House featured a variety of local singers, dancers, instrumentalists, and spoken word artists.
Engagement events have included master classes with professional dancers and artistic directors, question-and-answer sessions, and talks about creativity and technology in the arts. Students were invited to rehearsals with orchestras, Shakespearean monologue workshops, instrument demonstrations, work reviews, and professional development exercises.
"The master classes and pre-show sessions that have been provided by several artists at the center were new to me," Seyam said. "I found they provided a good chance to know more about the performers and the show itself and added a lot to my actual show experience. The close interaction between artists and audience in such sessions creates an intimacy between attendants and the performer and provides a complete event experience for the audience."
Students join faculty and community members to present My Take Talks in the galleries. This series invites people to share their perspectives on the art.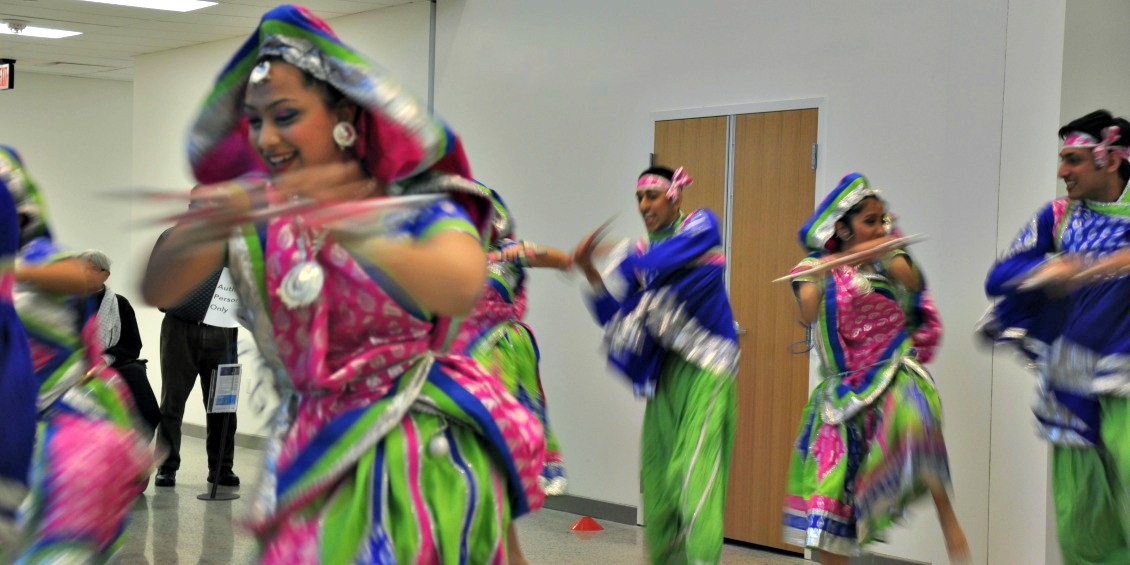 The student-led Dhamaal Dance Team performs in the Grand Lobby before a performance by tabla player Zakir Hussain. The competitive dance team danced the Garba, a folk dance the originated in Gujarat, India.
More than 100 student workers, plus graduate assistants, support the center while gaining professional experience. Students can curate programs through an effort spearheaded by Jon Catherwood-Ginn, the center's partnerships and engagement manager.
"Not only do we want to open our doors to students to participate in engagement activities with visiting and local artists, but we want to create space for them to articulate and realize their own programmatic choices," Catherwood-Ginn said. "We are working with students as they design performances and events for the center, based on the artists that they're inspired by and the themes that they would like to explore. That way, students bring their own personal stories into the process while learning how to program within a professional presenting environment."
Seyam has been helping to develop programming. He said the opportunity, "assures students that the Moss Arts Center is a place where students' voices can be heard, and where students' suggestions are seriously taken into consideration."
Become a season subscriber to receive a discount on our regular ticket prices.
Student tickets
Student tickets are always only $10 with I.D. for any show—in any seat! Click here to buy tickets or call our box office at (540) 231-5300.
 
Rush seats
VT Students: for your chance at free rush seats, text "arts" to 31996. We'll notify you the day of a performance when we have a free seat you can claim. Just be sure to bring your vaild Virginia Tech student I.D. to the Moss Arts Center box office will call. Free tickets are available on a first come, first served basis.
 
Student jobs
Check our Careers page for the latest information about available student positions.
 
Student Ambassadors
Are you a friendly, service-oriented Virginia Tech student with a passion for the arts? The Moss Arts Center Ambassador program is currently accepting applications for new members. Click here to apply or visit us on GobberConnect for more information. Applications are due by Friday, September 15, 2017.
 
Connect with us
We're on Facebook, Twitter, and Instagram!